Allderdice High School
Class Of 1966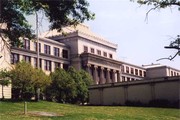 Survey: Class of '66 Turns 70!
Many of us expressed a desire to gather before our 55th reunion. That 50th was so much fun we didn't want to wait another five years. Other classes have held "Class of XX Turns 70" parties. This short survey will guage interest in a Class of '66 Turns 70 party. It won't be expensive or formal. Consider it a class birthday party since most of us will be turning 70 during 2018 or 19.
Please answer all the questions if you checked "YES" for question #1.
Please feel free to send any comments to JoAnn Erfer at joerf48@gmail.com.
Thanks
You must be a member to submit this survey. If you are a member please log in first. You can't submit this form until you've logged in.
* Answer Required

1)
* Are you interested in attending a Class of '66 Turns 70 party?

Yes No


Would you attend such a gathering of old folks?
2)
When, during 2018, do you think would be a good month for such an event?




When? We were thinking June 2018 would be good.
3)
Would you be willing to spend up to $50?

Yes No


How much?
4)
Would you be willing to help?

Yes No


Please, please.