Allderdice High School
Class Of 1966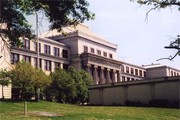 In Memory
Michael Parada
Didn't find an obit but did find this:
​The 7th Annual Michael J. Parada 5K Walk for Mesothelioma takes place on Sunday, August 20, 2006 in Pittsburgh, Pennsylvania. A lifelong resident of Pittsburgh and city firefighter for 27 years, Michael's passing in January of 2000 left behind a family that included three children and his wife of 30 years.
In 2003, Michael's wife Vicki Parada created the Michael J. Parada Research Fund for Mesothelioma at the University of Pittsburgh. Headed by Dr. Neil Christie, the fund is used to increase awareness of asbestos and mesothelioma; support research to improve treatments and the development of a cure; and to help patients with the costs of medicines and other treatments. Dr. Christie diagnosed Michael and played an integral role in his treatment.
Like many others, Michael's initial symptoms—and his healthy, non-smoking lifestyle—didn't definitively point to the serious diagnosis he was to receive. It took nearly a year to diagnose malignant mesothelioma, but less than six months after diagnosis he was dead.