Allderdice High School
Class Of 1966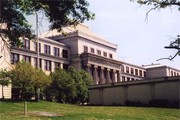 In Memory
David Schwartz
Obituary for David Michael Schwartz
On November 12, 2018, David M. Schwartz, devoted husband and father, passed away at the age of 70, after a long struggle with bone marrow failure. David was born on September 10, 1948 in Pittsburgh, Pennsylvania, the oldest child of Anne and Mike Schwartz. He graduated from Carnegie-Mellon University in 1971 with a degree in Architecture. After practicing for ten years in three states, he taught himself computer programming. David became an expert in digital signal processing in the 1980s and started several high tech businesses. He also worked for several companies in both the high tech and architecture/construction fields. David was a prolific inventor, and had many patents in audio, solar and bicycle technology, to name a few. He always looked toward the future, and was often told he was ahead of his time.

David was a collector of information, and knew something about nearly everything, as his astonished friends and family can attest. He had a passion for vehicles of every kind, especially classic cars. He was a motorcyclist, pilot and sailor. He enjoyed hiking, skiing, and barbecuing. In his retirement he wrote and published several short stories, baked many loaves of bread, and won several car show awards with his 1967 Chrysler Imperial.

David is survived by his wife Mary Finn, children Daniel, Noah and Eliana, mother Anne, siblings Rachel, Joel and Martin, as well as aunts, cousins, nieces and nephews. He will be greatly missed by his family and friends.

A funeral service was held on November 16, 2018 at the Home of Peace Cemetery in Sacramento, California.
https://sunsetlawn.chapelofthechimes.com/obituaries/David-Schwartz-32957/#!/Obituary