Allderdice High School
Class Of 1966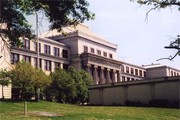 In Memory
Bruce Wolf
As a boy, Bruce M. Wolf stocked shelves at "Bruce's," a North Side grocery store his father named for him, then worked at Dickler's, his family's Mt. Lebanon gourmet market and deli on Beverly Road.
The experience taught him how to work hard, get along with people and manage a business. He also developed a taste for quality food, from juicy grapefruit to fresh fish.
The first three lessons propelled him to a long, lucrative career as a business lawyer with Atlas Energy in the natural gas industry; the fourth cemented a friendship with Henry DeLuca, a Shadyside businessman.
In the summer of 2018, while Mr. DeLuca was a guest at Mr. Wolf's Cape Cod home in Massachusetts, the two friends took a walk. Mr. Wolf was battling cancer, but, "He wanted to keep in shape and do the best he could. I'm walking a little slower for his sake. He wants to step it up. At a very good pace, we walked four miles .... He had that inner strength," Mr. DeLuca said.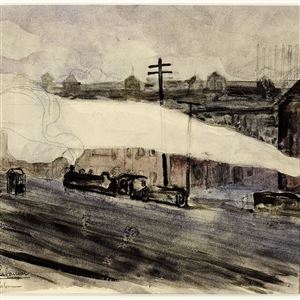 Artworks chart Pittsburgh's rise as industrial behemoth
A Pittsburgh native who lived in Shadyside, Mr. Wolf died Saturday of pancreatic cancer at UPMC-Shadyside. He was 71.
While his father, Sidney, showed him how to earn a living, his mother, Ann, cultivated his appreciation for art with regular visits to Carnegie Museum of Art in Oakland. For much of his life, Bruce Wolf searched diligently for paintings and prints that showed Pittsburgh in its early days and during its industrial age, taking great pleasure in returning the artworks to his hometown. He regularly lent artworks from his collection to exhibitions at Carnegie Museum of Art, The Frick Pittsburgh, the Westmoreland Museum of American Art in Greensburg and the Duquesne Club.
When Pittsburgh celebrated its bicentennial in 2008, a large panoramic view of the city that Mr. Wolf researched was exhibited at The Frick Pittsburgh in a show called "A Panorama of Pittsburgh."
"Our Dad's love of nature is reflected in his love of artistic landscapes of Pittsburgh and his interest in responsible land conservation," said his son, Kendal, of Washington, D.C.
He added that his father was involved in the Orleans Land Conservation Trust in Massachusetts.
As longtime chairman of the Duquesne Club's art committee, Bruce Wolf discovered that the panorama of Pittsburgh was created in the late 1850s by James Palmatary. Mr. Wolf championed its restoration and it hangs near the club's lobby.
"He was indefatigable when he had something he wanted to find out about. He would do all the research and follow every lead," said his sister, Joan Wolf-Woolley, of Princeton, N.J.
Inspired by his father, Mr. Wolf also traced his family's genealogy. Through a cousin in Israel, he discovered and befriended a cousin named John Woolf, who was imprisoned with his parents in the Auschwitz concentration camp during World War II. In 2011, Mr. Wolf and nine of his family members journeyed to Kolachava, a former Hungarian village, now part of Ukraine, to see where their ancestors had lived.
"We went with a cousin, John Woolf, who had survived the Holocaust with his parents. We didn't really know of him growing up," Ms. Wolf-Woolley said. "It was an amazing trip for all of us. That never would have happened if Bruce hadn't decided he wanted to know more about the Wolf lineage."
A year later, in December 2012, John William Eichleay and his wife, Ellen, took a three-week trip to Australia and New Zealand with Mr. Wolf and his wife, Sheryl.
"He was a wonderful person to travel with because he was open to all these experiences we were having. He was very companionable," said Mr. Eichleay, of Shadyside.
Mr. Wolf grew up in Squirrel Hill and graduated from Taylor Allderdice High School in 1966. He earned a bachelor's degree in history at Washington & Jefferson College in 1970, then joined Volunteers in Service to America (VISTA) for one year. While he was a college sophomore, he met Sheryl Kendal, a University of Pittsburgh freshman, through a fraternity brother. The couple married in 1972.
"Our mom is a powerful force in our family and encouraged our Dad to pursue his passion in art collecting, in researching his family history and in business. My brother Kendal and I will be forever grateful for the example they set for us of companionship, love and dedication to each other," said Mr. Wolf's younger son, Oliver, of Washington, D.C.
After earning a law degree at the University of Pittsburgh in 1975, Mr. Wolf became a senior tax accountant with Price Waterhouse, often traveling to Europe and Iran, returning with rugs, jewelry and other treasures for family members.
In the late 1970s, Chuck Koval, now a resident of Lake Livingston, Texas, hired Mr. Wolf to negotiate natural gas leases with landowners in northeast Ohio. Back then, Mr. Koval was chairman of the board of Atlas Energy, a company that built natural gas pipelines and supplied that fuel to General Motors and major steel companies.
"Bruce became my partner. You could count on Bruce. I trusted him explicitly. He's one of the finest people I've ever met. He could be tough, but at the same time he could also be very compassionate," Mr. Koval said.
Mr. Wolf worked in the oil and gas business more than 30 years, including as general counsel for Atlas Energy and as an officer and director of the Atlas public companies. In the latter role, he had the honor of ringing the bell on two occasions at the opening of the New York Stock Exchange. Atlas Energy was sold to Chevron for $2.6 billion in 2012.
When the Westmoreland Museum of American Art in Greensburg decided to build an addition, Mr. Wolf led that effort as its board president. From 2007 to 2017, he aided in choosing an architect, planning and fundraising. The museum's addition includes the Bruce & Sheryl Wolf Interactive Space, an area for children and parents to learn about art in a hands-on way.
During his tenure, the museum acquired three major art collections — one from the estate of Richard Mellon Scaife, another from Dr. Michael Nieland and a third from Diana and Peter Jannetta.
Judith Hansen O'Toole, the Westmoreland museum's retired executive director, said Mr. Wolf's board tenure "was extended beyond the traditional nine years because of his dedication to completing the campaign and the new building.
" ... Bruce was a strong yet compassionate leader," Ms. O'Toole said. "He helped our team strategize in thoughtful and creative ways. ... He held the respect of his fellow board members through his dedication to the museum and his knowledge of the art world, while his attentiveness to detail and deep respect for the staff were two other traits that made him stand out. He was a storyteller, a consummate researcher and a determined collector of works on paper relating to Pittsburgh, a city he loved with a passion."
Besides his immediate family, Mr. Wolf is survived by one granddaughter, Elenoa Wolf-Oakes, and one grandson, Zachary Asher Wolf.
A funeral will be held at 3 p.m. Monday at Ralph Schugar Chapel, 5509 Centre Ave., Shadyside. Burial will follow in Elrod Cemetery, Temple B'nai Israel, 841 Center St., Versailles.
The family requests memorial contributions to the Westmoreland Museum of American Art, 221 N. Main St., Greensburg, PA 15601 or the National Pancreas Foundation, 3 Bethesda Metro Center, Suite 700, Bethesda, MD 20814.
https://www.post-gazette.com/news/obituaries/2020/01/05/Bruce-Wolf-business-lawyer-avid-collector-and-art-detective/stories/202001020151?fbclid=IwAR15